The process of setting up a Spot UV business card is different from what you are used to. Since the Spot UV coating is not actually "printed", the area that is printed and the area that is Spot UV will require separate files.
Areas with UV (Spot) and Areas with No UV
Let's make it clear, the purpose of spot UV coating is to cover only certain graphic areas on the card, not the whole flat side of the card. Think of it as highlighting the important parts of your business card so that they stand out. Not only that, but you can get really creative with spot UV coating and make a business card that leaves a lasting impression on the viewer.
The Printed Area
The printed area of the card doesn't need any special layers or effects to prepare it for spot UV coating. The only thing you will do special might be to leave out certain objects that you might want to be spot UV only, without any printing under it giving it that "Ghost" effect.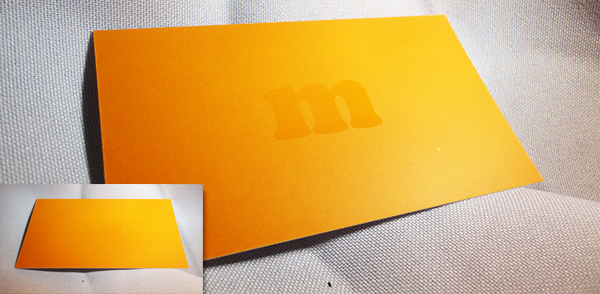 In this example, the "m" was left out of the printing, only a solid orange was printed saturating the entire back side. The spot UV coating was applied to render the "Ghost" effect to the "m" and you can only see it in the light at certain angles… this is one of the owner's business cards, we get WOW's every time and most customers want it for their business cards.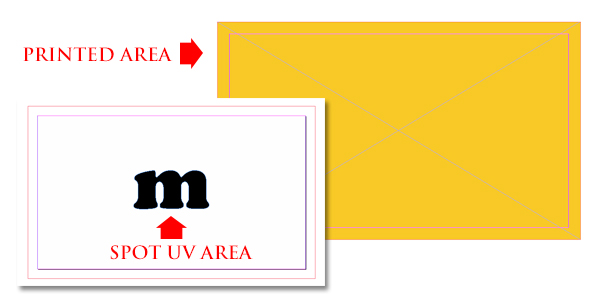 The Spot UV Area
Believe it or not, it's not that difficult to make a Spot UV file for the business card. Think of it this way, the UV coating is simply a clear color that you can put over any object in your design. Therefore, all you need to do is use black (100% K) representing the areas where the UV coating will be applied. Anything that is left white in the spot UV file will NOT have UV applied to it. Anything that is black (100% K), will. Simple as that.
[note color="#d1d7c7″]I would not recommend doing this in Photoshop since
 the layer would be rasterized
 creating a jagged edge, use Illustrator which creates a vector layer instead for nice crisp clear edges.[/note]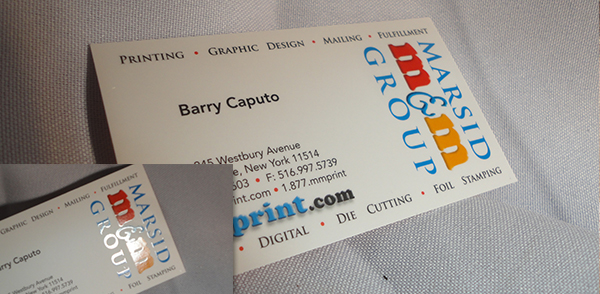 The logo on the front of the card is important to us so we wanted it to stand out. How did we do it? Spot UV of course! It just jumps out at you when you're looking at the card.
[note color="#FFCC00″]
Once you have setup your Spot UV business cards. Give us a call at 
1877-mmprint 
to speak printing professional about your project or visit our 
Business Card Printing Page
 for more information and to request a quote. [/note] [divider top="1″]