When it comes to marketing a product, standing out among your competitors can be an important way to attract new customers. Almost every company will have some sort of marketing materials, whether it be a brochure, website or promotional item. In this situation, creating a printed material that is a little different from the norm may be a beneficial way to highlight your product or company. Here are some new products that can get your creative marketing side flowing:
Pocket Menus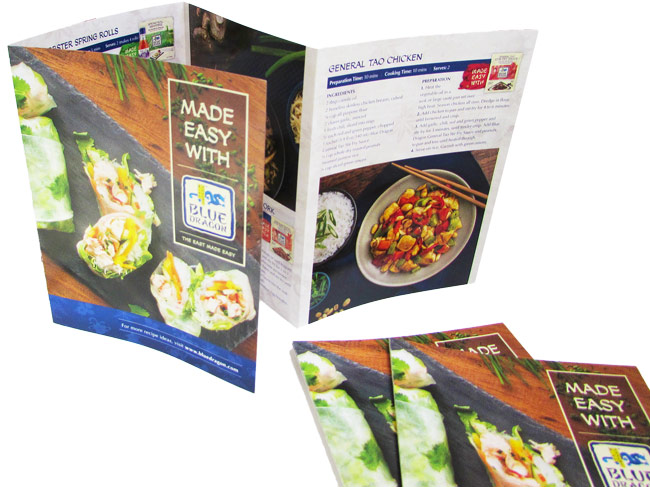 Mini pocket menus
are an incredibly versatile type of brochure for restaurants and retail food companies. Instead of using a traditional take out menu, these can have up to 12 panels which can be used to highlight each section of the menu.
Additionally, we have seen pocket menus used as ways to present stunning pictures, easy to follow recipes, or details about where and how the product is produced. Many consumers are interested in knowing the ingredients and materials that go into the food they enjoy, and a detailed pocket menu can provide extensive information about their contents.
Uneven Fold Header Cards
Header Cards
are an easy, affordable and attractive way to market your product. They are simple to assemble and have the flexibility to package several different products simply by switching the content in the polybag.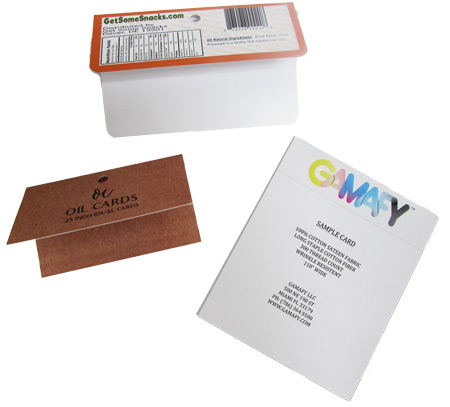 Most commonly, header cards are scored in the middle to create an even fold on both sides of the card. Sometimes though, it could be useful to create a card that has an uneven fold so that one side is longer than the other. The card can still be stapled to seal in the product, but this offers a flap that can be used to reinforce the product or provide extra space for information, directions, ingredients or materials used.
Another popular use for Uneven Header Cards is as a swatch card that can be used to show off different types of fabrics. These are used by fashion companies when it is not easy enough to send full samples of a product. A swatch of the material can still give your distributors a feel for the product that you will be selling.
Die Cut Hangtags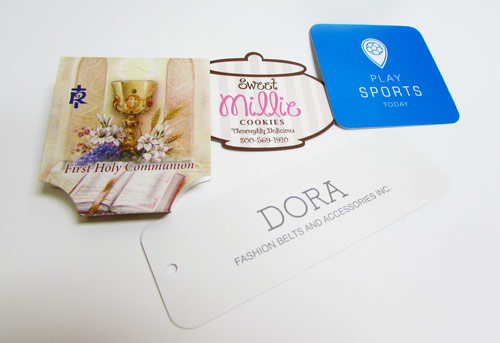 Hang Tags
are an essential way to market your clothing, jewelry or fashion accessories. Make sure you compliment your unique fashion item with a hang tag that is equally special.
Die cut printing
allows you to make custom shapes and sizes for your product tags.
Having a custom shape can make a big difference on the presentation of your product. With your hang tag, you can include your company logo, information about the product, and what materials are used in the product.
---
At The Marsid M&M Group, we're all about innovation and helping our customers grow their business with the best marketing and print materials. Contact us today with any questions or ideas you may have for new projects.