The biggest mystery that small business owners always look to solve is how to get their name, offerings, and promotions into the minds and hands of potential customers. It's a constant quandary. There's so much noise in the marketing world, too. Do you go with digital ads? Emails? Or do you the classic route with billboards, flyers, and commercials?
Customers are just as inundated with marketing noise as you are. Their inbox is filled to the brim with promotions they'll never open. They scroll by ads without a glance as they look for friend's latest comings and goings on social media.
Important business is done through the mail. Our physical mailboxes have thinned out over the years, but people still check it. Did you know that 80-90 percent of direct mail gets opened, only 20-30 percent of email gets opened on a good day?
That means, you can get your message in front of 80-90% of your intended recipients when you send your promotions through the mail.
What is EDDM
EDDM stands for Every Door Direct Mail. When you use EDDM, your messaging is sent to desired recipients through location and demographic targeting and you pay only a small fraction of the amount it would normally cost for bulk mail.
EDDM is especially great, because you don't have to provide a mailing list or anything. You just have to know what neighborhoods, household types, general locations, or demographics you'd like to target.
What sorts of businesses use EDDM?
Any small business can benefit from smartly used EDDM campaigns. For example, say you're a restaurant. You'd like to reach local people in your area to get them in try your tasty dishes. You could send an EDDM campaign on a folded postcard that includes your take-out menu and a coupon for their first visit.
How about a local salon? You could send an EDDM campaign that promotes a lady's night open house or simply introduce your services with a limited time offer. Urgent care facilities are hyper-local and depend on the local community to be successful, EDDM is a great solution for this.
Basically, if you're a business that would like to generate extra foot traffic coming through your door or eyes on your website, EDDM is an amazing option to consider.
What types of campaigns can I run through EDDM?
If you can create a message through a postcard, you can use EDDM to promote it. Some of the most common ways that businesses use EDDM is to tell their customers about:
Weekly, monthly, or annual sales/promotions
Featured products and services
Business grand opening or new location opening
Tell new customers about your business for the first time
Distribute monthly news or insights
Coordinate a new location launch and target just the service area
Increase and keep constant brand awareness
Truly, the sky is the limit. Customers find mailed promotions far more personal than emailed notices, which means there's a high chance that they'll read whatever you have to say to them.
What can I send through an EDDM campaign?
EDDM campaigns are for flat mail only. It can't be enclosed in an envelope or sent on flimsy paper. Whatever you send through EDDM needs to be strong and light enough to be mailed as a stand-alone mailpiece.
EDDM campaigns can be sent on mailpieces with a maximum size of 12″ x 15″ or you can use one of the following standard sizes:
6.5" x 9"
6.25" x 11"
8.5" x 11"
8.5" x 12"
7" x 10" (folded in half)
12" x 4" (folded in half)
Basically, for EDDM, you want a smooth, flat piece of mail that isn't too heavy (under 3.3 oz). This could include all types of products like:
Small or large postcards
Take-out menus
Business flyers
Postcard magnets
Perforated coupons
Promos with peelable stickers affixed
Folded postcards
Request Your EDDM Printing And Mailing Quote Today!
Reach Every Business and Residence In Your Town – for a fraction of the cost and you don't need to buy a mailing list!
What should I include on my EDDM mailpiece?
Think about it like this—these customers are being introduced to your business, potentially for the first time, through this small piece. What do you want them to know? Boil it down to a simple concept. Remember, a lot of your brand can be conveyed with images.
Now, let's design this postcard with some have-to-have elements:
What problems can your product or service solve for the customer?
When you start planning your mailer, think about what you can do for the customer. While you may want to sing the praises of your business, most people are interested in how you can help their business. Define a problem that your promotion solves and focus your copy on that. From there, begin planning your design.
Start with an appealing, eye-catching picture and headline
People are visual. No one likes to read giant walls of text. The more you can convey with a simple picture and bold, concise headline, the better. You want to catch their eyes as they flip through the mail, so plan these two elements with care.
Plan your colors carefully
Once you know your header and image, you can use a website like coolors.co to create a color palette. Pick colors that match your logo and image elements. Use these colors for your fonts but keep legibility in mind. You'll want to be sure that any text you use has great contrast when laid on the image. The simpler your color palette the better—for best results, stick to 3-4 colors max.
Call-to-action
A call-to-action instructs customers on what to do next. Ideally, what do you want them to do with the information you just gave them? Pick up the phone? Pay you a visit? Visit your website? Tell them clearly. Add a limited time or expiration date to increase the chances of them doing this action in a timely manner.
Leave room for the required Retail Indicia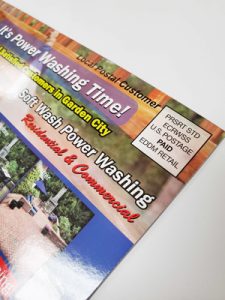 You'll need to include The Every Door Direct Mail™ (EDDM) Retail indicia in a clear space on the front of your mailer. If you're not sure what to put here, we can help!
Designing a mailer is a lot of work. Expert design can make a huge difference on how effective your mailing ends up being. If you're not sure where to begin with the design process, reach out to us. We can handle your EDDM campaign every step of the way. Our expert designers will create the perfect postcard for your message and, after printing and finishing, it'll be sent on its way to greeting your customers at their mailbox.