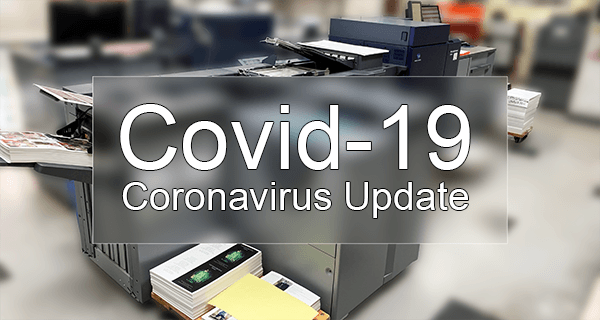 With the rapid growth in Coronavirus the way we do business and go about our lives is changing constantly.  We have been getting A LOT of questions about how this impacts MMPrint and what we are doing to provide ongoing service to our customers.
The health and safety of our employees and our customers has been and continues to be our top priority. We continue to closely monitor updates from the Centers for Disease Control, the World Health Organization, and Local Governments. We will continue to seek guidance from these agencies as well as public health officials on an ongoing basis.  We also have created a team that is dedicated to our response to this pandemic and have developed contingency plans to continue meeting your needs.
We have instituted a pandemic plan across our organization that includes health and safety protocols so we can continue to serve you.
We have closed all front office areas to the public.
We have taken measures to ensure our suppliers and supply chain are prepared to provide uninterrupted products and services as much as possible.
We have contingency plans for shifting work within all of our manufacturing facilities giving us the flexibility to meet your needs.
We are restricting non-essential meetings and inter-plant personal contact for our employees.
We are asking any staff member who may be symptomatic to stay home, and focus on their wellness.
We have informed our staff members the importance of social distancing, and proper procedures.
We have doubled our antibacterial hand sanitizer stations within our facility and have asked our staff to take an hour a day to disinfect their work stations.
We have asked all our maintenance team to sanitize all community areas twice a day.
We continue to monitor all major news outlets and guidelines from the CDC and local, state and federal governments.
From all of us at MMPrint, we thank you for your continued confidence in us for your printing needs and please be safe and stay well.