There are a few simple rules to follow when saving a print-ready design made with InDesign and it all starts with setting up your InDesign document properly with bleeds.
The following paragraphs will enlighten you to a few golden rules to follow when it comes to saving/exporting your design to make sure it's ready to go to print.
The Need To Bleed
Adding bleeds from the start, BEFORE YOU EVEN START, is crucial. Think about it, you're working on a 200+ page catalog and then you find out you have to go back and extend the bleed of every single object in every single page!! I really think if that happened to me I'd be Keanu-level bummed…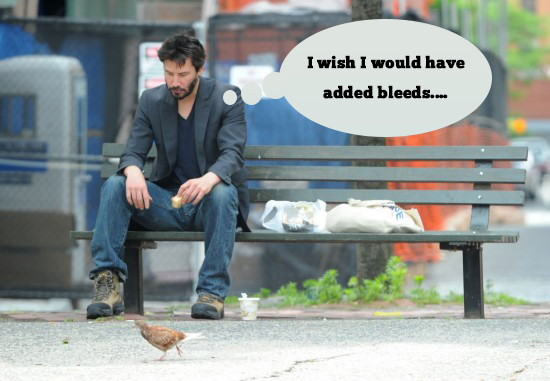 Packaging vs. Exporting
There are two common options when sending your file to your favorite printing company. You can choose your preferred route, although one is easier and produces a smaller file size:

1. Export to PDF
You can easily export your file to PDF format and send one single PDF to your printing company.  Saving as PDF embeds all your fonts and linked images into one file; nowadays this is the preferred method.
2. Package…
Packaging all of your document fonts, linked images, instructions and native InDesign file is another option you can exercise when sending your files to print. This option does create a pretty large file size that might make it a little harder to transfer to your printer vs. a PDF that could be half the size.
---
Save It Right The First Time
To save your InDesign file as PDF:
Click

File > Export

.

Enter your filename

Click Save
Select the [Press Quality] Preset

Compression
I recommend leaving the compression to default values. For printing you only need 300 DPI images. If any of the images in your document are above 450 DPI, InDesign will automatically downsample the image to 300 DPI to reduce file size.
Color Image Compression:
Grayscale Image Compression:
Monochrome Image Compression:
Marks and Bleeds
To be safe, you can always simply select "All Printer's Marks" although the most important options to have selected here are Crop Marks and Bleed Marks. Crop and Bleed Marks usually go together when any of the art, anything being printed, reaches the edge of the paper. A crop mark denotes where the paper will be cut to the final size while a bleed ensures that a white border is not present at the edge of the paper when cut.
Learn more about Crop Marks, Bleed Marks and the Cutting Process in printing.
Marks
Bleeds and Slugs
If you set up your document correctly before starting your design as I stated at the beginning of this post, then it's safe to select "Use Document Bleed Settings". The slug is primarily to be used by you during design so we'll just leave that unchecked.
Output
The default settings found in the Output options are pretty general and apply pretty well in all situations within the U.S.
Check with your printer first since it is possible that they have a preferred profile that works best with them. Otherwise, leave it as is – CMYK – U.S. Web Coated (SWOP) V2.

This is box title

Time for you to contact a modern printing company who will be able to use your PDF when saved with these settings. Honestly, you need to look no further as you are already in the right place: The Marsid M&M Group offers both digital printing and offset printing, foil stamping and embossing, custom die cutting and mailing services all with fast turnaround, all done in-house.
Give us a call at 1877-mmprint or visit our website www.mmprint.com