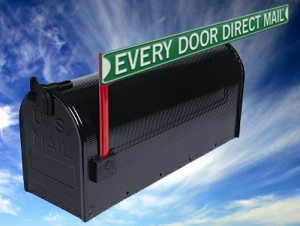 E.D.D.M.- Every Door Direct Mail
Recently released by the United States Postal System (USPS), the purpose of Every Door Direct Mail is to enable mom and pop shops, small businesses and corporations to send a direct mail piece to every mailbox in a specific area. The area of the mailing can be specified by zip code or radius around an address and further defined by selecting routes within the results. Get Every Door Direct Mail For Your Business Now
Every Door Direct Mail is Not for Every Type of Business
If your main customers are businesses (B2B), E.D.D.M. is really not for you. Every Door Direct Mail requires that you mail to residences. If your product or service caters to a very specific demographic, targeted direct mailwould be more beneficial to your campaign, not E.D.D.M.
Who benefits from Every Door Direct Mail?
If your product or service serves your local community and appeals to both individual consumer households and local businesses too, E.D.D.M. is a great and inexpensive way to make your presence known and can lead to an increase in foot traffic and phone calls if you plan it out well. Every Door Direct Mail works great for local businesses:
Pizzeria
Laundromat
Deli
Diner
Lawyers & Accountants
Tax Service
Taxi & Limo Service
Don't forget, franchises do most of their marketing at a local level…E.D.D.M. Win!
Why Every Door Direct Mail Will Work For You
1. Marketing at a Local Level
Local deals, local search, local , local, local!A perfect example is the announcement of a new pizzeria in town. Let's say the owner is not a marketer or just doesn't have the time to put together a marketing campaign. Yet, naturally he knows that his target market is every home and business in the surrounding area of his pizzeria. Every Door Direct Mail would be the quick and efficient way for the pizzeria owner to let every home in say, a 2 mile (or more) radius know about the grand opening of the new pizzeria. Simple and inexpensive.
[tentblogger-youtube XJSYGeufiCE]
2. No Mailing List or Permit Required
So, you're a Franchisee and you own 3 stores that each serve their own local communities. Your main marketing objective is to make sure that everyone in the local vicinity of each store knows about the store, letting them know the address, contact information and hours of operation. Since Every Door Direct Mail service does not require an address list, you can send a direct mail piece to every single residence in the town of each store for a measly 14.5 cents each in postage. No requirement for a Postal Permit also saves your out-of-pocket costs in application and yearly fees.
3. Like Sending a Billboard to Every Door
Every Door Direct Mail requires that the size of your mail piece falls within the USPS "Flat" dimensions. A common size is 6.25 x 9 which is a huge amount of real estate to cover with big graphics of your products or services, coupons and anything else that makes sense to include in the direct mail piece. You can go all the way up to 15 inches. You can also mail folded prints as long as they fold down within the size restrictions: Full color custom Calendars give you 12 months of continuous marketing and fall within the "flat" dimensions.
4. Easy Coupon and Specials Distribution
With the low cost of distribution, E.D.D.M. is a great tool to use to give out your coupons, announce specials and event sales. Spruce up your marketing and offer "neighborhood only" coupons. Sure, you can always use a Valpak type of service but with 1700 other coupons in the same envelope, will your coupon even get noticed ? (See #3 above)
5. Setup is a Breeze
Besides being cost effective, Every Door Direct Mail only takes a few simple steps to put together. Have your E.D.D.M. postcards printed, band them into bundles with a facing slip and a rubber band and then deliver them to the Post Office with your payment for postage. That's it. Too busy? Your preferred printer can do everything for you, all you have to do is bring it to the Post Office with your postage payment.  
---
One of the reasons the United States Postal Service created the Every Door Direct Mail program is to help local business grow (and to try to get back on track with it's own revenue of course). But when used correctly, it really is a great opportunity to expand your marketing efforts.
Don't Put All Of Your Eggs In One Basket
E.D.D.M. doesn't necessarily need to be your only means of advertising; Use it to augment your web, TV and radio marketing campaigns and remember to add QR Codes to connect the offline with the online.
Have you used Every Door Direct Mail for your business? What was your response like?