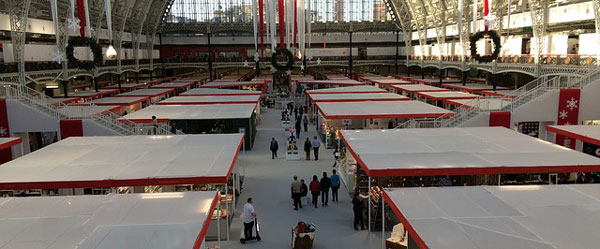 If you're planning to exhibit at a trade show or industry event, preparation is the key to success. Our Trade Show Survival Guide will help you plan for a smooth and successful event. Make sure you check-out these tips before you hit the ground running.
Choosing the Convention & Setting Goals
How does exhibiting at a trade show support your overarching marketing and sales strategy? As you begin to get organized, make sure you're looking across the board at the trade shows in your industry and choosing the best fit for your company. The Trade Show News Network is a great place to do research on the top events in a variety of niches.
There are two primary types of trade shows, vertical and horizontal. Vertical trade shows specialize in one industry and typically attract attendees who work across the full supply chain in that industry. Horizontal trade shows reach a broader base of industries but often appeal to a specific contingent along the supply chain. It helps to consider which type of trade show you'll be attending and how you plan to reach the audience there.
Creating a very generic booth strategy that will appeal to everybody is a surefire way to appeal to nobody. Don't be afraid to target a specific market segment or target audience at the event. It also helps to tweak your messaging to align with the convention headlines, themes, or keynote messages. This will help your booth stand out as relevant and appeal to the interests of the attendees.
It's also helpful to set specific goals for yourself and your company when planning to exhibit at a trade show. What are you aiming to accomplish with your booth? Lead generation, sales, or simply brand strategy? What are the metrics or KPIs you'll use to measure your success?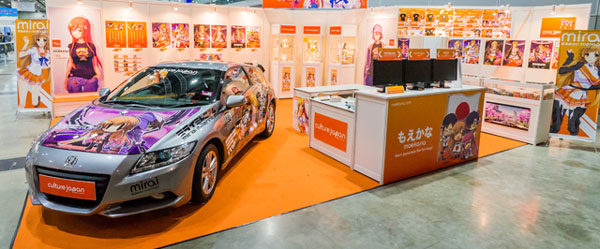 Planning Your Booth Placement
Booth placement is important. It helps to proactively seek out great booth placement from the beginning. Work out a deal with the event organizer to optimize your booth space for foot traffic. Oftentimes by getting in early and requesting a particular location, you can secure a spot that's going to be optimal for achieving your event goals.
If your booth placement is less than ideal, don't fret! There are plenty of things you can do to make the most of the space you have.
Banners that are suspended up high are a great way to stand out among the competition, especially if your booth is off the beaten path. Banners can be printed on vinyl or fabric and can be customized with your brand colors and logo. Consider highlighting the value that customers will receive when they visit your booth. Your banner might be the first interaction a customer has with your company at a trade show–think about how to best utilize that real estate to draw people in.
Consider lighting. If you're stuck in a dark corner, become a beacon of light for your target audience. Think about using lighting to highlight focus on products or signage. Just make sure your lights aren't so bright they deter customers.
Create interest through invitations. You can explicitly invite your prospective customers to your booth using invitations. This can be for a one-time event or to engage in ongoing activities at your booth. Consider sponsoring invitations in the event swag bag that's distributed at registration, handing out invitations while attendees are arriving for a keynote, or sending invites to prospective customers prior to the event.
Lastly, it helps to keep an eye out for ancillary spaces that you'll want to use during the event. Look for a cafe or quiet seating area near your booth. Have a "go-to" location for closing business or taking meetings that's close to your booth. It will allow you to quickly get back and forth and keep an eye on things when you need to be away.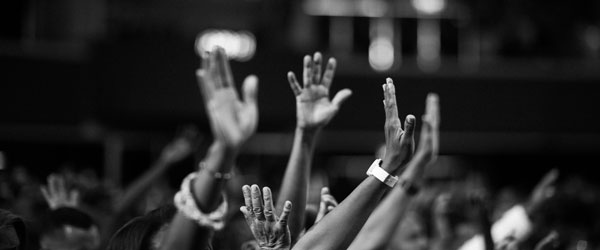 Customer Takeaways
If a customer doesn't make a purchase from your booth, they should walk away with something that will help them remember you and build loyalty with your brand. You can accomplish this kind of connection through a variety of formats at a variety of price points.
Business Cards: Make sure you receive a business card for every card you give out. After a conversation with a prospective client, write a note on the back of their card to remind you what you discussed. At the end of each day, you can enter all the information you collected about your leads in a spreadsheet. This will make your post-event follow-ups a breeze.
Catalogs: Make sure to have some collateral at your booth that will allow your attendees to browse your offerings after their visit. A catalog remains the most effective way to do this. Ensure your catalog features your most popular and important products and the key information a customer needs to know in order to make a buying decision. Additionally, make sure that you have high fidelity in the colors printed in your catalog–this is especially important if your physical products are available in a variety of colors.
Swag: Don't be shy when handing out swag at a trade show or event. The more attendees see their peers with your swag, the more they'll want to stop by your booth to get in on the action. Some of our favorite ideas for swag are calendars, planners, mousepads, stickers, and magnets. Needless to say, creating high-demand swag to represent your company is one of our areas of expertise. We're here to help you from design through production.
Giveaways are a terrific way to engage customers at your booth. By promoting a giveaway that's relevant for attendees you can generate buzz and word of mouth at the event. Product baskets are great, but make sure they are travel friendly (or provide the option to ship to the winner). You can also give the winner early access to a product line or a free year of a premium service that you offer. The sky's the limit here! Just make sure that your giveaway prize aligns well with your brand and product or service offering.
Consider the End at the Beginning
The last piece of advice we have for planning a successful booth presence at a trade show is to plan for the booth break down during your design phase. Knowing what kind of staff you'll need to take down and ship your booth home will help you wrap-up your event seamlessly.
During design consider incorporating booth elements that can be easily packed-up. We love retractable banners for events. You don't have to worry about finding a place to hang them as they set-up with their own stands. You can move them around strategically for different events or traffic flows at the booth. And, best of all, they are easy to break-down and send home.
When it comes to the close of your event, take a few moments to reflect on what went well and where you'd like to improve for next time. Consider the goals you set at the beginning of the process and look at what you measured. Lastly, don't forget to celebrate the hard work and effort that you put into your trade show.
Are there any tips that you have for making a trade show a successful event? We'd love to hear from you below. Leave us a comment and let us know what's worked for you!