Heidi was born in August of 1969.  She had lived in San Diego, California for many years where she printed all types of advertisements, brochures and stationery.   She was one of 10 Heidelberg Windmill Letterpresses which were all lined up in a row.  She worked very hard for 10 hours every day and 10 hours every night with very little rest; as did her 9 sisters sitting beside her on the long and narrow concrete floor that she called home.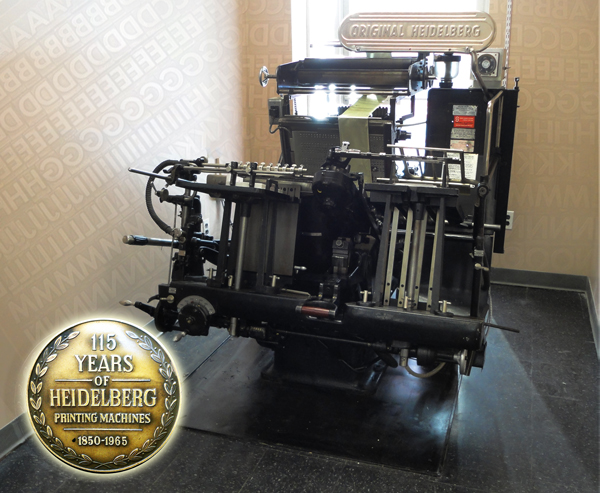 Tragedy
Right after her 15th birthday in September of 1984, the factory that Heidi worked in was shut down.  People said, "It was because there were newer types of printing presses called Offset Machines that could run faster and produce better and cleaner printed work."  Heidi then sat idle on that cold concrete floor with no electricity or oil for almost two years.
Rebirth
In July of 1986, Henry Jenkins, a reverend from a small church in Los Angeles, found Heidi listed in a newspaper advertisement.  He journeyed to San Diego with a large moving truck and brought her back to his garage in L.A..  He fed her oil and gave her electricity which made Heidi so happy.  The reverend's wife came to the garage once a week, always on Wednesday, to clean her and rub her down with a very soft cloth.  Heidi was finally at work again; her new job was to print small prayer books and song sheets for Reverend Jenkins to distribute to his parishioners.  After many years, the good Reverend took ill and was forced to make a change.  On February 17, 2007, Reverend Jenkins and his wife closed their church and moved to a small town in Mexico where they became missionaries.  Heidi now needed a new home.  She still had so much life in her.
Heidi was found by an adoption agency in Jamaica, New York called Crystal Graphics.  The company was owned by a man named Mr. Bally, who knew that although he would probably be keeping Heidi for a while; he was sure he would eventually find her a good home.  He cleaned Heidi from top to bottom and made sure she looked good.  He then covered her with a big green tarp with the words "WINDMILL 13X18" on it.  Trying to find new parents that were qualified was not an easy task.  People would come to look at her, but no one seemed to have the right use for Heidi.  After many months of deliberation, Mr. Bally decided to convert Heidi into a Die Cutter and Foil Stamper.  In November of 2011, after the conversion was complete,  she received a new coat of paint and was ready to go.  Again the green tarp was put back on Heidi to keep her protected and safe, but it now had the words "FOIL STAMPING / DIE CUTTING" added to her description.
A New Home
It was about this time that Sid Halpern, the president of The Marsid M&M Group a very progressive "State of The Art" commercial printer, decided to compliment his offset and digital capabilities and bring "in house" Foil Stamping and Die Cutting to their growing list of clients.  Mr. Halpern found Heidi advertised by Mr. Bally on eBay and decided to make a visit to the Jamaica, New York warehouse to see her.  He lifted the green tarp and was immediately impressed!  Heidi was clean and beautiful, filled with oil and ready to go to work with all her new capabilities.  The deal was made and the adoption finalized!  A few days later, December 10, 2011, Heidi was on Mr. Bally's delivery truck heading to her new home in Carle Place, New York!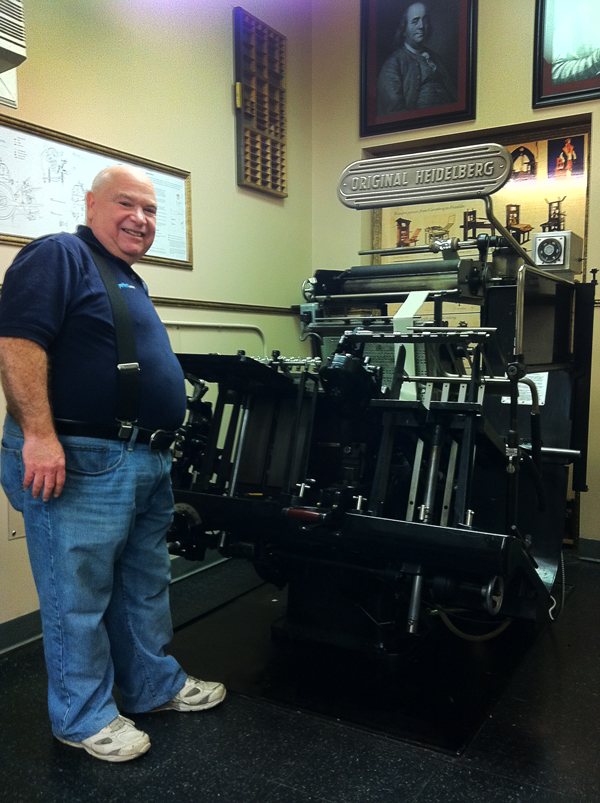 Wow!  Heidi was amazed when she arrived.  Mr. Halpern had built her a very special private room with an arched doorway!  He installed  new crown moldings and had pictures of Benjamin Franklin and Johannes Guttenberg on the wall above her.  There was a vintage California Job Case to her left and an authentic composing stick to her right!  There were even a few antique hymns engraved in copper on the wall. Heidi thought she remembered printing with those back when she was with Reverend and Mrs. Jenkins in L.A..  Heidi was so proud and now felt so useful in her new home with all of the shiny new offset and digital printers!  Mr. Halpern was very good to her; he treated her as part of his FAMILY.  He bought her all new tools and was so excited to watch her Die Cut and Foil Stamp new jobs every day.  It didn't take Heidi long to realize she would never again be on a delivery truck!