Many say the printing industry is in decline, some even say print is dead. Think again Egon!
This has got to be the coolest innovation to hit print next to QR Codes and it has been said before: Print is not dying, it's Evolving.
If you are a movie buff, you may have already heard of Augmented Reality (AR for short). The film industry is adopting this technology wisely and guess where it is found…yes, on their PRINTED movie posters and even on the official movie T-shirts which of course are screen-PRINTED.
A Revolution on the Rise
As augmented reality technology catches on and becomes more affordable, you will see its use more and more in our daily lives. The one aspect of augmented reality that really catches my attention is the fact that it could revolutionize learning.
Finally we have something to make those boring text books come alive, making learning interactive or better yet, fun. This would make kids actually want to study…Check this out:
[tentblogger-youtube 1RuZY1NfJ3k]
The example above shows just one way augmented reality enhances print. This technology can also be applied to Direct Mail and just about every type of printed advertising from business cards to large format.
Augmented Reality in Print
The following round up of Augmented Reality print advertisements show that print is here to stay and is the medium which connects our reality to the virtual online world. Enjoy!
Godzilla 2012
Poster and T-shirt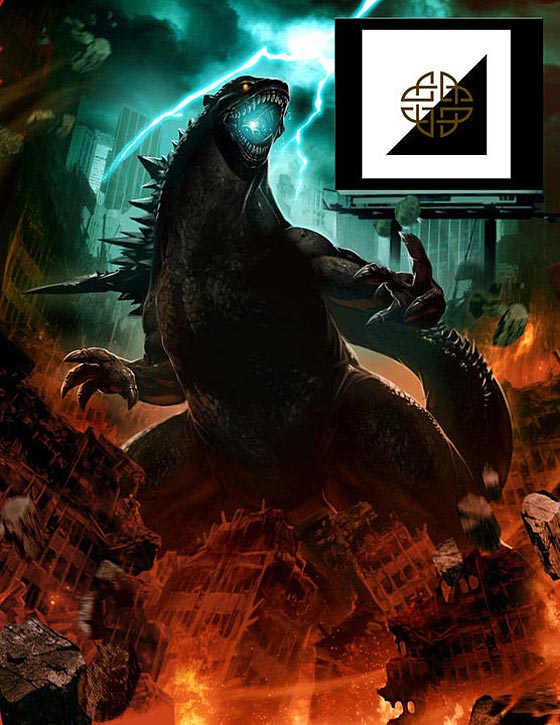 [tentblogger-youtube 4wAd0c4gEds]
iQ Toyota Augmented Reality Tech
Postcards
[tentblogger-youtube 1_7NW_u3VFo]
Interactive Marketing sales tool – Building Magical Brochure
Brochure
[tentblogger-youtube GhoVGwkwamM]
Augmented Reality Business Card – Avatar Concept
Business Cards
[tentblogger-youtube humqD4PR2f8]
Augmenting a Postcard
Postcards
[tentblogger-youtube oxuGkfFjyXc]
Bouygues Telecom Augmented Reality Smartphones Brochure
Brochures (Wow!)
[tentblogger-youtube J9gDR4JCXdw]
Audi Augmented Reality Calendar
Calendars
[tentblogger-youtube 1HrNrKmSqds]
I (heart) Augmented Reality
T-shirts (lol)
[tentblogger-youtube 1eHIwO_231I]
Augmented Reality Encyclopedia
Encyclopedia
[tentblogger-youtube oHkUOpYNhoM]
Augmented Reality Game
Board Games
[tentblogger-youtube Lfp8id6bpDU]
New Reality – Augmented Reality Magazine
Magazine
[tentblogger-youtube S-G8u-01t0k]
TOUCH2PRINT -Augmented Reality: Can touch this
Touch Interactive Paper
[tentblogger-youtube uVeqfpLIdx8]
Gamer
Movie Advertising
[tentblogger-youtube 5tsP5B1M0LU]
This is only a small chunk of what is out there! Augmented reality can solidify print's centuries-long foundation in our present and more importantly, our future.
In what ways will you use Augmented Reality in your Print Campaigns?