In today's fierce Real Estate market you have to stay on your toes. Marketing your open houses, agency, available properties and yourself as a Real Estate agent is a key component to drive business, sales and changing that For Sale sign into a Sold! sign.
As a printing company we get to see what is new and what is working across different markets using different strategies. Here are some key marketing tips inspired by what we have seen work best for real estate agencies and agents in their marketing efforts: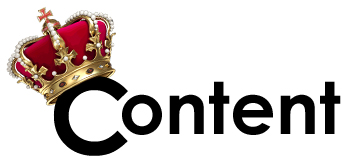 1. Apply the Content is King Concept to your Real Estate Marketing Efforts
To begin with, most home buyers want to know what they are getting and how much it costs; They peruse through the property listings on your website and find a few pictures, a list of features and a few bullet points with a sales price which gives them the skinny on the property. But where is the value?
Content is King is a phrase well known to today's internet marketers, SEO gurus and social media experts. It's a very successful concept on the web and has been for years, these days even more so. Content adds value to a product beyond its functions or assets. Is there a positive story behind the property, the street or the town? Did someone famous or worth mentioning live there at one point? Content can give a property personality; transforming a house for sale into a home for sale. Words can influence, that's why Content is King.
2. Modernize your Real Estate Marketing Materials
With the sharp increase in consumer purchases of smart phones, it is a big mistake not to consider incorporating mobile into your Real Estate marketing.
As a home buyer, I can remember the frustration caused by seeing a beautiful house with a for sale sign outside as I drove by and saying to myself: "I can't wait to get home and look up the listing on that house!"
By the time I got home I had forgotten the address, the Real Estate Agency that was selling it and of course, I didn't stop to write down the phone number on the sign.  For the Real Estate agent this meant a lost sale or a lost lead at the least.
Behold, the QR Code. It began as a special barcode to track car parts and has evolved into the connection between offline and online marketing. The QR Code can be scanned with a smartphone to display information or initiate an action on the mobile phone.
A For Sale sign with a QR Code on it can lead a person who is interested in the home to a mobile friendly website where they can view pictures and contact the seller or Real Estate agent. QR Codes can also store contact information directly into the mobile phone's contact list simply by scanning the code. QR codes are open for personal and commercial use. Here is a list of free QR Code readers and generators.
3. Personalize Communications
Real Estate agents and agencies have access to a vast amount of data about potential customers and their interests. Too often, this data goes unused to its full potential when in reality, it is bursting with value.
There is a little hidden gem that doesn't seem to get the exposure it deserves…yet! Only the big ad agencies and corporations seem to be using this technology to their advantage. The printing industry is currently experiencing a digital evolution and from it we have the birth of Variable Data Printing, also known as VDP.
Variable Data Printing is the personalization of each individual piece in a print run. Let's say you have a database of 5000 potential home buyers and in that database you have details about the type of homes these potential home buyers are interested in purchasing: Cape, Colonial, Ranch, two family, etc.
In your magnificent database of real estate information you also have access to all of the listings of homes for sale that have these features.
Now tie it all together. A printing company with Variable Data Printing capabilities can take your database information (usually in MS Excel format) and customize each printed piece with information pertaining to the recipient such as their name and information related to their home buying interests such as images and open house dates.
Here is a sample Postcard with Variable Data Printing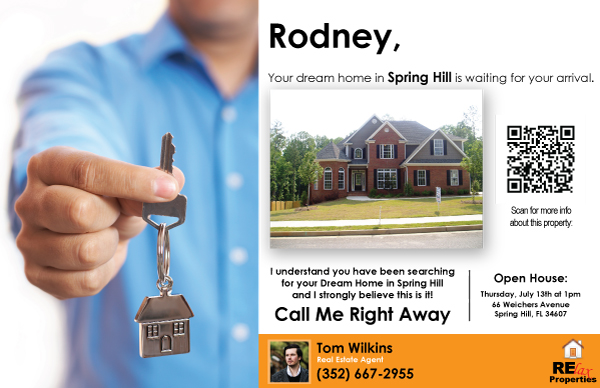 Here are the Variable Data Fields: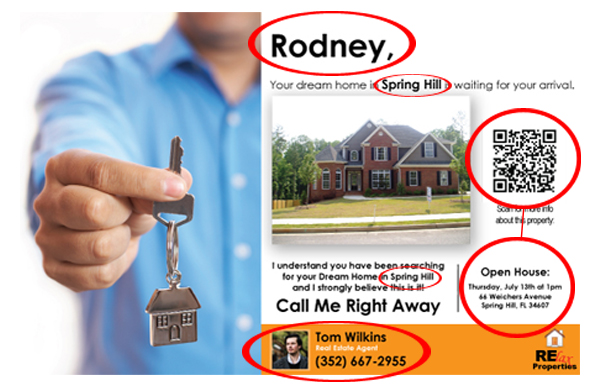 Variable Data Printing is a remarkable technology will absolutely increase your read rate. Most generic postcards are glanced at and discarded. If the recipient sees their name on it, they have a higher probability of reading all of your content and contacting you.
Have you used QR Codes or Variable Data Printing in your Marketing? What other technologies are you using in your Real Estate Marketing Campaigns?
Please comment below