Presentation Folder Booklets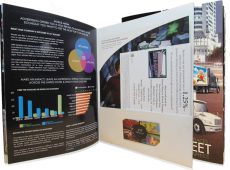 The new year is inching closer. Many personal and professional events are upon us. Taxes. The mere mention of the word brings dread to the mind and it creates frustration in your bones. There's mention of in the Bible of tax collectors being some of the least favorite people of their time. Yes, taxes and our dislike for them have been around that long. Probably longer. I believe I read something about a cave drawing containing angry cavemen next to the letters IRS.
Let's get back in the present. We now have tools to help with tax season. If you are a tax professional, our Presentation Folder Booklets(with or without the Stepped Inserts) are a simple way to engage your clients in a sleek, professional, and organized manner. Our custom printed booklets provide all the information that you would like them to see. All your clients will understand and the folders will provide a simple way to stay organized with all the deductions people will try to take. (No, just because you vented about work at the drive through does not make that dinner a business expense.)Conversely, if you are gathering your information for tax season our Standard Presentation Folder is an excellent a way to stay organized.
Enough with the taxes already
Let's forget about taxes. Presentation Folders Booklets are something used in almost every industry. What separates us? All folders are custom printed, so that it is tailored to your audience. We offer different option, folders, or stepped inserts, which are great for a company presentation. Contractors, Realtors, Financial Planners, even Funeral Directors have to sit down with potential customers and present their information in a sleek and professional manner to win over clients. That is where we come in. Presentation is everything, and our Folders and Booklets are designed to impress. Why stress about your pitching your next idea? When you can have all your information in one sleek folder, and when you distribute them, they will all be uniform. Everyone will be on the same page. Literally.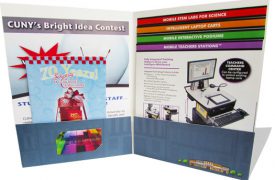 Annual Reports
Every business should have annual reports. Medium to Large companies rely on them for many reasons. However, small business should do the same and our custom Annual Reports allow to present all pertinent information regarding the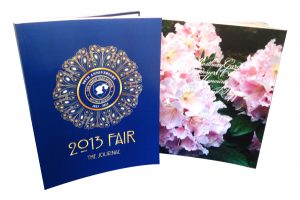 previous year in a professional and organized fashion. Annual reports contain all the important financial information. Use them to highlight achievements.. Small businesses can use Annual Reports as a marketing tool,also, you can promote your companies success to investors, or use it to share milestones.
Staying organized is integral. Presentation can be the difference between hired or fired. Keeping valuable data is a tool to market to your audience. These are all basic parts of running a successful business. Using these simple tools to promote and market your business can be how to get where you want to be. We are happy to answer questions and we can help your business look and perform at its best.