When shoppers are browsing a store, they are often walking past hundreds of different products and brands trying to grab their attention. A product's packaging can be one of the most important factors in a customer's buying decision. Having a poorly designed package can give the impression your merchandise is cheap or inferior. Make sure your packaging boosts your brand image instead of hurting it.
There are many different ways to package your goods, but one of the easiest and most cost effective is the use of header cards (also commonly called bag toppers). This packaging consists of a printed piece of cardstock folded in half and stapled to a polybag. This simple packaging process will get your products on the shelf in no time!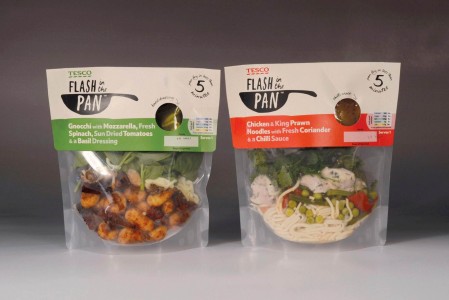 Choosing a Header Card Size
Many printing companies offer a few sizes for header cards, and some will be open to printing any custom sizes. When choosing your size, make sure the width of your header card is at least an 1/8th" longer than the width of your polybag. As for the height, it is more of a personal preference, but generally a heavier product will have a longer header card.
Designing your Bag Topper
Having a skilled graphic designer create the artwork for your packaging is another important aspect for making your product stand out. When designing for print, there are a couple of important points to remember, such as designing with bleed so that you don't have white margins around your card.
When designing your card, remember that the design will be printed on one sheet of paper that is folded, so you will need the top half to appear upside down.
Here are some design templates for a common size header card:
Header cards can be designed on both the front and back. It could be useful to print instructions or additional information on the inside of the card to keep it hidden.
Choosing a Hole Punch
For Bag Toppers, there are two standard options when it comes to hole punching: the standard hole punch or the sombrero punch (pictured below).

Some smaller products may be better suited without a poly bag. For this type of packaging, consider printing your design on a thicker cardstock with slits to attach your product to. This is a great option for jewelry and other small items.
Looking for expert advice on variable data printing or need a custom quote? Feel free to reach out in the comments section or visit our header card printing page!