Business cards are more than just portable contact information; Designed properly, they can convey character and utility. When designing your business cards, it is important to consider the end-user.

Who will be looking at them? (Design)

Who will use them? (Information)

How will they store them? (Finish)

Will it go into a wallet or be digitally scanned? (Paper Stock)

All of these questions are utterly important to avoid your card being the one that gets disposed of because the information in it did not justify the bulk in the wallet, or because the lack of specificity did not remind customers of what the company does, or even because it is so overly simplistic that it gets lost among other ones. Keep all this in mind and find the right balance for a successful, informative, eye-catching business card worthy of retention.
.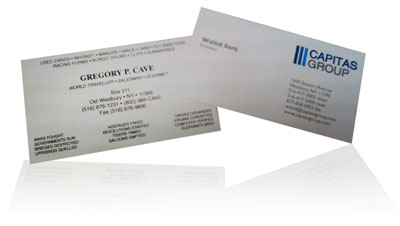 The same applies when choosing your printing format
You want to be different, but not so different that confuses your clientele. Again, think whether you are catering to traditional customers who will expect a more traditional font and paper stock, or adventurous individuals who will appreciate your company having taken risks on the size, cut, material, and finishing. People want to identify… help them identify with your company. Going even further, you should consider using double sided cards. You want your business cards to be recognized from every angle, and you want to take advantage of the space. Sometimes it is smart to even include information that can help the customer in their daily lives. A calendar, a time/currency/metric system converter, a tiny bus/subway map —these can be great ideas, as long as you can make a connection with your company and why this tool was included. Do not just put it in because it is cool and useful; your customers will want it to make sense.
Paper stock makes all the difference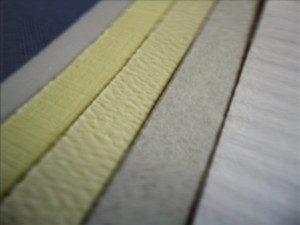 A great design can become a horrible one when the substrate it is printed on does not reflect the same quality.
Thickness (paper weight), gloss coated, un-coated, matte finish; Linen, Laid, natural white, solar white, textured or smooth? The paper stock can be considered part of the design process and choosing one is not as difficult as it may sound.

A few things to consider when choosing a paper stock for your business cards:

Is my design contemporary or modern?
a gloss paper gives colorful designs a more vibrant look
textured stocks such as linen or laid convey elegance and are considered premium papers
Paper colors and tones can have an effect on the colors in your design

Besides the aforementioned, paper mills produce an incredible line of paper types that can take your design above and beyond and increase the retention rate way past expectations.
The Finishing Touches
Some of you may be risk takers or outside-the-box thinkers; You like being different and you want your business card to express these features as well.
As we have seen above: options, options, options is all we have. Remember to choose the right combination of structure, colors, paper and last but not least, finishes. The wrong or unnecessary finish can ruin the beauty of a well designed and thought-out business card.

Here are a few of the most common finishes for your business cards:
Custom Die Cut

Standard shapes and completely custom cuts
Rounded Edges

Accent one, two, three or all four edges
Spot UV

UV coating in custom shapes
Free Resources:
What combinations have you used to make your business cards stand out?

Post your comments below…