Brochures are a wonderful way to relay information about your product, service or business in general. Many times customers will find themselves waiting around or standing in line… that is the perfect time to present your brochure and inform them of your products and services while they wait.
A captivating brochure will make an impact on the decisions your customers will make regarding your products and/or services.
Creating a one of a kind, intriguing, call-to-action brochure requires planning, copy writing, graphic design and patience.
A brochure is more than just information and pretty pictures, it is a sales tool that can be very effective when implemented correctly.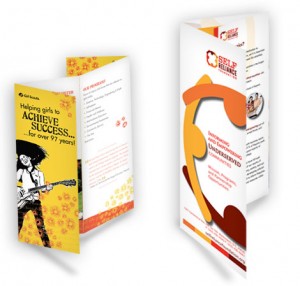 Full Color Brochures can be the first connection you make with a new customer. Their simplicity and ease of access allow current and prospective customers to learn about you and to quickly get acquainted with what your company offers. With 1, 2 and 4 color brochures you can do that effectively, and at a low price. Working with an 11″ x 17″ size sheet of paper gives you the flexibility you need to be creative and to include all the information you need. Flexibility is very important when trying to create unique looks that will make your brochures stand out from those of your competitor.
Things to keep in mind:
Size

– Brochures are measured unfolded. There are three standard sizes: 8.5'' x 11'', 8.5'' x 14'', and 11'' x 17''. 11'' x 17'' brochures work great when you are trying to stand out, and when you have a large selection of products to introduce or there is simply a lot to say about your product or service.
Paper Stock

– 80# Gloss Text, 100# Gloss Text, 80# Gloss Cover and 60# uncoated offset stock are some of the possibilities. The weight of your brochures will affect your cost, but also will affect the impact of your final product.
Folding Options

– With so many folding options it can be hard to decide which fold option is right for you, but you must always understand what the specific folding does for you, from pull viewers in, to split your ideas well, to even be at all necessary.
When these general guidelines are followed, you can expect a higher return on investment in the form of purchases, inquiries or an increase in exposure of your brand, products or services.
Have you designed marketing brochures for any outside-the-box situations that you would like to share?
Please add your comment below.