When ordering new menus for your restaurant, you want to make sure you are getting something that not only looks great, but will also last a long time. Since the menus are constantly around customers, water and heat, ordinary coated paper will not do the trick. There are a few ways around this, and the finishing can dictate the overall design of your menu. The most Common of these options are Edge Sealed Lamination, Flush Cut Lamination or Synthetic Menus.
After designing your menu to look exactly how you want, use the information below to help decide what type of finishing will work best for you:
Lamination
After your menu is printed, you can choose to add a layer of lamination to protect it. The Lamination process involves taking your printed sheet and rolling it between two layers of lamination. The packet is then heated to bond the lamination together and seal in the menu, creating an air-tight protection. Our lamination comes in two thicknesses: either 10 mil (5 mil per side) or lighter 6 mil (3 mil per side). A mil is equal to 1/1000 of an inch (0.0254 mm).
After the menus are sealed, they go into the cutting stage. There are two ways that menus can be cut:
Flush Cut Lamination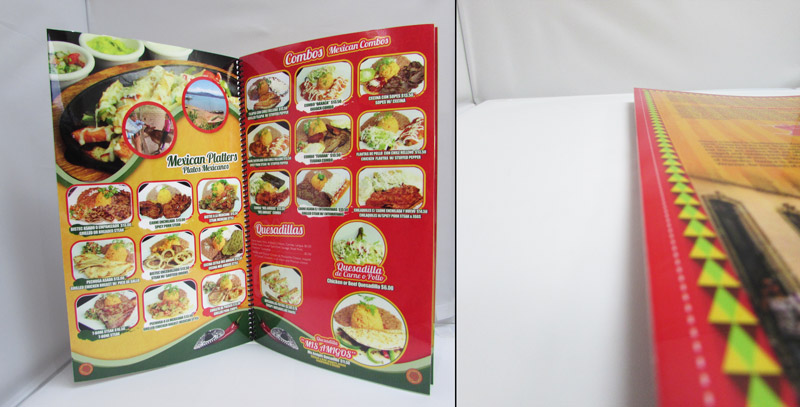 Flush cut finishing is when the menu is cut along the edge of the menu. This gives the menu a clean-cut look because there is no lamination hanging off of the edge of the paper. Because it cuts slightly into the menu, the edge will be exposed. This can result in water seeping into the edges, and the lamination starting to peel off the paper.
Flush cut is a good option for a restaurant that is looking for aesthetics over durability. It is also more cost effective, and could be a better option if the menu is replaced somewhat frequently.
Edge Sealed Lamination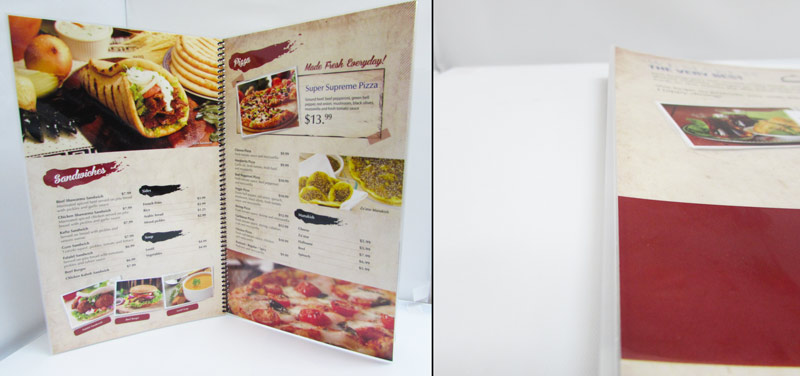 Edge Sealed Menus are the most durable option we offer for menu printing. After the sheets are laminated, they are then hand trimmed, leaving a border of plastic around the page. This ensures that the menu stays completely enclosed, making it absolutely waterproof. The plastic border that remains is usually between a 1/16″-1/8″.
Edge Sealed Finishing is the best option for restaurant menus that are constantly being handled by customers and servers or exposed to kitchen elements. Since they are hand trimmed as opposed to machine cut, they tend to be more expensive than Flush Cut menus.
Synthetic Menu Prints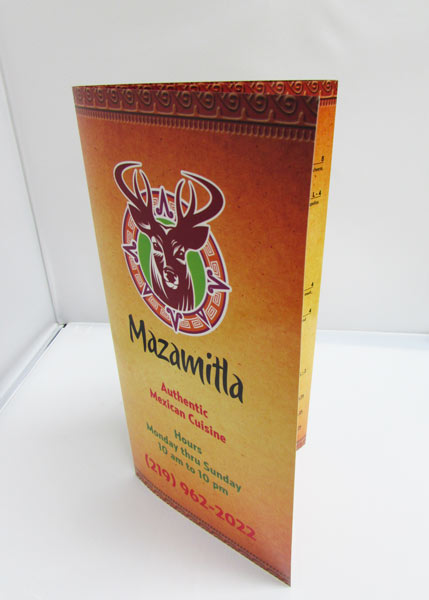 Synthetic Menus are a bit different than laminated menus. Instead of the plastic going on top of the paper, these menus are actually made out of a plastic material. Synthetic looks and feels similar to regular paper, but has the unique qualities of being tear-proof and water-proof. Since there is no extra layer of plastic, synthetic menus are thinner and more flexible. They do range in thickness though, from paper weight to cardstock weight.
Synthetic menus are most commonly used as trifolds since they are lightweight. When they are used for spiral bound menu books, they tend to be a bit flimsy compared to the rigid laminated version.
Although the synthetic paper itself is water-proof and tear-proof, the paper and ink is still exposed to the elements. It can withstand being wiped off or sitting in water, but is not guaranteed against chemicals or creasing. Although it is a great option for menus, it is no substitute for durability of a laminated menu.
---
Need a quote on Durable Restaurant Menus? Head over to mmprint.com to get free pricing, turnaround time and design tips. We'd be happy to any questions you might have!