Effective January 5, 2013, the United States Postal Service (USPS) is revising the regulations governing the Folded Self-Mailer Standards. The final rules were published in the Federal Register on December 1, 2011 and can be found in the Federal Register / Vol. 76, No.231 / Thursday December 1, 2011 / Rules and Regulations [PDF].
USPS Working with Mailers to Get It Right
After 2 years of collaboration and testing between the Postal Service and mailing service providers, the final rule was finally adopted. The USPS took comments and suggestions made by the mailers who tested and analyzed the proposed changes into consideration during the process.
The purpose of the new self-mailer regulations is to introduce mail piece design options that streamline into the current mail processing capabilities. Mail pieces that meet these rules will qualify for automation and machinable discounted postage pricing.
Folded Self-Mailer Definition and Specifications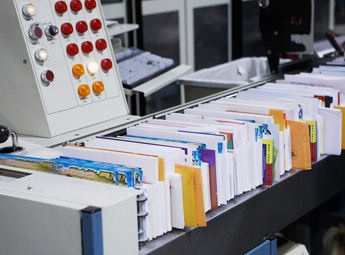 A Folded self-mailer (FSM) is simply a sheet that is folded to create panels and sealed to letter size. The self-mailer may contain more than one sheet but cannot be bound in any way, including by staples.
A self-mailer may have a maximum height of 6 inches and a maximum length of 10.5 inches. The maximum thickness is 0.25 inches and can be up to 3 ounces.
The mail piece must have the main fold at the bottom except for oblong shaped mailers. Having the fold at the bottom allows the mail piece to run smoothly through the USPS automated mail system which is composed of extensive belts and roller platforms. Although oblong mail pieces are not required to have the final fold at the bottom, they cannot be tabbed at the bottom to prevent snagging or getting caught as they pass through the system.
Common Fold Methods
Bi-fold: single sheet folded once in half forming two panels.
Tri-fold: single sheet folded twice forming three panels.
Quarter-fold: single sheet folded at least two times with the second fold at a right angle (perpendicular) to the preceding fold. One sheet of paper quarter-folded produces four panels.
Oblong: mail piece with fold(s) vertical to length of letter. Final fold must be on lead edge.
* Source: USPS FSMReference-3.pdf

Tabbing Requirements for Basic Folded Self-Mailers
Tabs can no longer be perforated
1″, 1.5″ and 2″ tabs must be used according to fold method and weight
Minimum 2 tabs for Basic Folded Self-Mailers
Tabs may be placed on top or sides within 1″ of the top edge
Two 1″ tabs for mail pieces up to 1 oz.
Two 1.5″ tabs for mail pieces over 1 oz.
Sources:
Federal Register / Vol. 76, No. 231 Rules and Regulations: Folded Self-Mailer – http://1.usa.gov/U0p58L
USPS RIBBS: Folded Self-Mailer Summary – http://1.usa.gov/VTCe3w
* Questions about Folded Self-Mailers should be directed to a Mailpiece Design Analyst. Access an MDA by clicking "Mailpiece Design Analyst Lookup"