The United States Postal Service (USPS), a "Self-supporting government enterprise", has announced a retail postage rate increase effective as of January 27, 2013.
The Postal Service funds its facilities and operations with the sale of postage, different products and services. It does not receive tax money from the US government for its operating expenses.
The USPS can only make postage increases that reflect the rate of inflation.

First Class Mail Postage Rate Increase – Retail
First Class Single Piece Letters (up to 1 oz.) will increase from 45 cents to 46 cents, up a penny
The additional cost per ounce for Letters over 1oz. will not increase the cost of 20 cents
Postcards will increase 1 cent from 32 to 33 cents
Priority Mail Retail Flats Rate Increase – Retail
One ounce or less Flats will increase from 90 cents to 92 cents
Flat Rate Envelopes new price $5.60
Legal Flat Rate Envelope new price $5.75
Padded Flat Rate Envelope new price $5.95
Small Flat Rate Box new price $5.80
Medium Flat Rate Boxes new price $12.35
Large Flat Rate Boxes new price $16.85
APO/FPO Large Flat Rate Box new price $14.85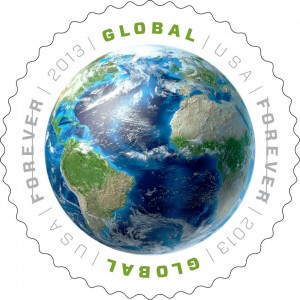 New Global Forever Stamp
The USPS will introduce a new Forever stamp to be used with First Class Mail International 1oz. letters or cards to any country around the globe.
The cost is a flat rate of $1.10 for any letters or cards under 1oz. and can be used to send a 2oz letter to Canada
International Forever stamps have a round shape and say "Global Forever".
Art director for the US Philatelic William J. Gicker selected this depiction of Earth by Italian artist Leonello Calvetti. Greg Breeding designed the stamp.
The USPS is the only existing delivery service that reaches every single address in the United States. That is over 151 million residences, businesses and PO Boxes. The postage rate increase is another consecutive year of rate increases for the USPS which may reflect heavy decreases in profits over the past few years.