Last week a local landscaping business owner stepped in asking for business card printing. As a rule I always ask customers what they are doing to advertise their business these days and if it's working for them.
As owner of a landscaping business, he understands that his target market is pretty much every household in every town around him. "Just about everyone has a lawn yet not everyone is willing or able to maintain it." – he says. He also stated that his main problem was he didn't know how to reach all of these lawn owners without having to spend a lot of time and money.
That was until he came in and spoke with me. I said to him, I can put your name in the mailbox of every single household and business in those areas…every single one. All I need from you is a list of towns you want to reach and a few minutes to review the graphics we create for you… We'll take care of the rest.
He gave me one of those How could that be? looks.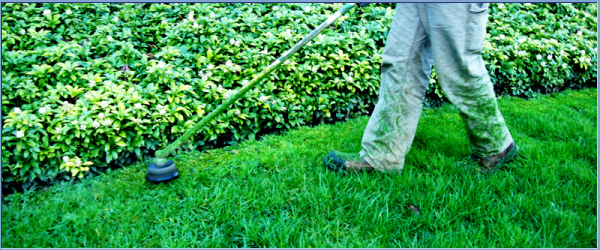 The Local Advertising Advantage
Landscaping business advertising is actually a lot simpler than you think. The United States Postal Service has made it incredibly easy to reach every mailbox that they serve without addressing every single piece. The service is called Every Door Direct Mail or E.D.D.M for short.
The process is as basic as it can get:
Have your EDDM postcards, flyers, brochures or booklets printed following the USPS size guidelines
Bundle your EDDM pieces per postal regulations
Deliver the EDDM paperwork, bundles and postage check to the Post Office of the town where the mailing is to be delivered in
For a more in-depth guide to Every Door Direct Mail check out our post : 3 Easy Steps to Every Door Direct Mail Success.
Offline And Online Connection
During the conversation with the customer he also stated that most of his leads ask for pictures of previously completed landscaping projects as proof of his skills as a landscaper. He has an  existing website with a picture gallery where he sends his potential customers when they ask.
By including a QR Code in the graphics of the EDDM postcard, flyer, brochure or booklet, he is able to connect his printed mailer with the internet. The QR code leads to a mobile-friendly website where potential customers can view a gallery of pictures taken of recent landscaping jobs. We also spoke about using a QR code to add video for further engagement with his EDDM mailer.
Creating A Call To Action
Creating value for your EDDM mailer comes hand in hand with creating a call to action. You must add an action for the customer to take when the interest is most available. Tell your potential new customer what to do or where to go.
Do you want them to call you? Do you want them to fill out a form on your website? Would you like them to like your Facebook page. These call to actions should be large and in charge. They should be clearly visible and take priority in your design.Some examples of calls to action include:
Call Us Now For A Free Consultation!

Request A Free Estimate!
Like Us On Facebook!
Call Us For More Information!
Make sure the call to action is relevant to what you are offering. If you are offering a discount coupon, make it time sensitive in order to get a fast response. Create a sense of urgency by using the words "Now", "Today" or "While Supplies Last".
---
Reaching every home in your immediate area increases your chances of being hired or at the very least, being referred. Also, everyone know will have heard about you, Every Door Direct Mail is a great way to create awareness that you exist and what you offer.
[box title="Every Door Direct Mail" color="#d1f4f5″]Receive a Free Quote for Every Door Direct Mail.
We'll do all of the work for you, simply bring them to your local Post Office with your Postage check.[/box]