What is the first step to getting your print project started?
So the first step in getting your project ready to be printed is designing it of course. Now not everyone is Leonardo DaVinci or is willing to pay to have a graphic designer make their ideas come to life. So what options are you left with? Well, you can fire up photoshop (If you have it) and attempt to design your project or use a site like Canva. Canva is a free, super easy to use, drag and drop, online DIY Graphic Design Tool. Boasting over 10 million users and just about 4 years of experience, Canva can proudly say it only takes 23 seconds to learn their software.
Let's take a look at how easy it is to get your Print Ready PDF.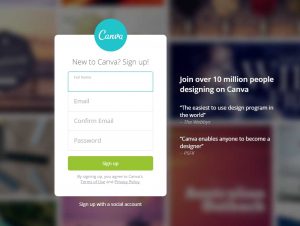 First, we are going to go to Canva's website and create a free account. You can choose from one of their 3 sign-up options. (Facebook, Google+, or Email) After confirming your email simply login to your new account.
Now that we have our account set up we need to pick what we will be designing. I have chosen a tri-fold brochure. Simply pick a layout and

off you go on making your creative dreams come true! You can do many things with the built-in tools, like adding stock images, your own logo, text, and much more. Canva has put out a large amount of guides and tutorials on how to become a design master in no time. I highly recommend you give them a look.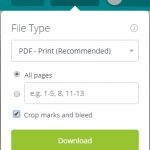 Once you have completed your design simply press download. Leave the file type as PDF-Print and check off the crops and bleeds box. Now click download again and you will have your design ready to hand over for printing!
Now if you haven't already, you can request an estimate to get your printing started. If you have already received an estimate you can simply click place order and upload the files at checkout!