Almost everyone at one time or another has received or sent a professionally printed Christmas card.
It's a tradition that has been practiced for centuries and can be tracked back to the Chinese who would hand-write and hand deliver their holiday greetings and wishes of good fortune as well as the Egyptians who used papyrus scrolls. This was until 1843, when Sir Henry Cole of London, an English civil servant and inventor, hired an artist named John Callcott Horsley to design what would be the first ever commercially printed greeting card for his personal use. After sending out all of the cards he needed, Cole sold the remainder for one "Schilling" each which sold rapidly and so he sent for another batch to be printed for sale.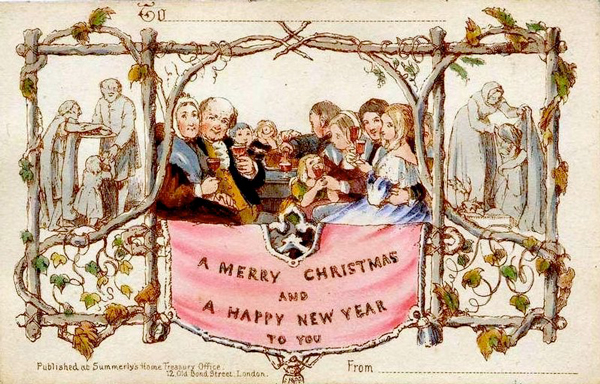 From Fountain Pens to Presses
The advancements in printing machinery and the London postal system (at the time known as the Penny Post) facilitated the commercialization and distribution of Christmas cards. The Penny Post charged a flat fee of one "old penny" for a letter or package up to one pound marked with what we know well today as a Postage Stamp. The trend carried on to include "non-occassion" cards such as "Get Well Soon" and "Happy Birthday" greeting cards being sent all around the world, all year long.
Christmas cards, which we might take for granted, have actually been part of long history of revolutionary innovations that shaped the world we live in today… Some traditions are worth keeping unchanged.
References:
Wikipedia – Christmas Cards
Wikipedia – Henry Cole
Wikipedia – Penny Post
Winterthur Museum – The First Printed Christmas Card