Mailing Overview
After your order is printed, use our direct mail services to compliment the order. Rather than shipping to an independent mail house, you can print and mail at the same location and only have to deal with one company. We can also mail directly from our facility at a more nominal cost than an independent mail house. Without the need to work with multiple companies and ship product between them also means that your mailing will go into circulation more quickly. Your printing and mailing will be treated as one job from start to finish. Overall you will save money, you will save time, and you will save yourself from the frustration of dealing with multiple companies.
Begining the Mailing Process
A mailing starts obtaining a mailing list. Most lists will be obtained through sites such as Accudata and InfoUSA, very few people manually create a list. Mailing lists are prefered in XLS or CSV files. In the mailing list, each row will be an individual recipient, while the columns will be the various fields such as street, city, state and zip. More fields can be added for further customization or for Variable Data Printing.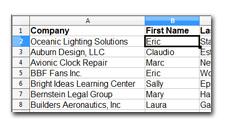 How The Mailing List is Processed
Now that job is printed and your properly formatted mailing list has been received, we will process the list. First we will CASS certify the list. CASS certification is when we correct the addresses, fill in missing information and standardize the addresses. It also checks to see that the addresses are deliverable. Then your mailing is NCOA certified. NCOA certification means we will check the names on the mailing against the national change of address database and if it is necessary, it will update the addresses of contacts who have moved. Finally if the list qualifies, the mailing is assigned barcodes.
Final Preparation and Finishing
Anytime you see a printed image which extends from end to end on postcards, brochures, etc, it has been created with a bleed. A bleed is basically an extension of the image which will be cut off. Be sure to create your artwork at least an 1/8 inch (.125) larger per side, than the actual printed size for the best quality. Read more...