NCR Form Printing Services
Custom NCR Forms & Carbonless Forms Printing
Professional businesses use customized NCR forms in their daily functions to stay organized and efficient. Data forms, invoices, contracts, receipts and other business forms usually require an original copy or two that get filed or distributed to different departments and another copy for the customer. Carbonless forms provide this function efficiently and reduce the amount of writing or typing by passing the information into the copies below. No need to run to the copy machine to make copies anymore.
What Does NCR Stand For?
NCR is an acronym for "No Carbon Required". The top sheet of a carbonless form that you actually write on has a coating on the back that transfers what you write or type to the second sheet which has a coating on the front and back which then transfers to the next sheet and so on. The last sheet is not coated on the back since it does not need to transfer the information any further.

This coating on each of the sheets eliminates the need for a sheet of carbon paper to be inserted between each copy, hence the name "No Carbon Required". You might remember the waitresses used to use the carbon forms to take your order at your local Diner.
NCR Binding and Finishing Options
NCR Forms are available in 2 through 6 parts. Each part being a different colored sheet. Any more than 6 parts usually results in the type or handwriting not transfering to the very last sheet unless you write really hard.

Binding options include edge glued, snap sets, manifold books and continuous forms for dot-matrix/pin-fed printers.Your carbonless forms can also be printed and cut to any size that best fits your needs.

Call us at 1-877-mmprint if you would like to speak with an NCR form specialist.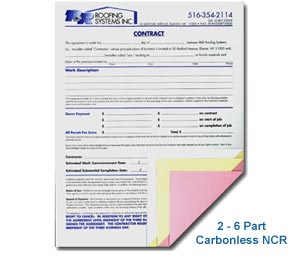 NCR Form Graphic Design Templates
Click To Download
Get An Estimate Easy as 1-2-3
Free Shipping with Every Order!*
To speak with a Print Professional about
your project call us toll-free:
To speak with a Print Professional about your project call us toll-free by pressing below:
1-877-mmprint