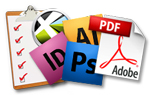 Are Your Files Print-Ready?
Avoid mistakes by double checking your files with our
Print-Ready File Checklist
! The most common errors occur during the initial setup of your artwork or at the end when saving the file.
If you have any questions, please feel free to contact us via our Live Chat, email or call us at 516-334-1603.
---
Uploading Your Files
You can upload your files directly to our secure cloud server by following the instructions below. We recommend zipping (PC) or stuffing (Mac) all of your files prior to uploading which will make uploading your files faster. PDF format is preferred which eliminates virtually all file compatibility and font issues.
Instructions
Thank you for your patience as each form loads.
Step 1 - Contact Information:
Please provide your contact information so that we can easily identify your files on our server, and so that we can contact you should any questions arise.
Step 2 - Upload Files:
Click the "Choose File" button to select the file you wish to upload and then click the "Upload File" button. Once the progress bar indicates that the file has been transferred, you may repeat the process as many times as necessary if you have additional files to upload.