The Marsid-M&M Group Company History ~ Then & Now
The Marsid M&M Group was founded to provide high quality printing using state of the art technology. Our team has over 350 years of combined experience in the graphics industry, enabling us to produce superior quality work. Our mission is to consistently provide a superior printing experience to every customer and provide the best possible service, support, and quality printing for each and every job. We specialize in fast turnaround without sacrificing quality. The high quality work and great service we are known for, has earned us many satisfied repeat customers.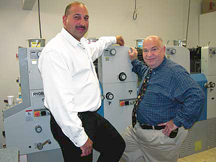 We credit our success to caring for our customers and their unique needs. From our inception, it has been our goal to provide every customer with high quality products, the best value, and the most comprehensive service. Every job and customer, regardless of how large or small, receives the same careful attention to detail and quality that have become synonymous with Marsid M&M. Experienced staff members are adept at matching the needs of clientele with our capabilities, and they are proven trouble-shooters and problem-solvers. We look forward to becoming your printer of choice.
Team Member Spotlight: Take a look at our employee profiles & see who you're working with
Sales & Marketing Team
Art & Production
Press & Bindery
Jose Miguel Reyes
PMS Color Specialist

Tone Allicea
Digital Pressman

Jaime Tobon
Pressroom Supervisor

Hugo Ibaceta
Delivery/Maintenance