Envelope Size and Style Charts:
The envelope size specifications and diagrams below discuss in detail the most common size envelopes used for business correspondence and printing.
Common styles of envelopes include "A" size envelopes, Baronial envelopes and Standard Regular Business correspondence envelopes.
The envelope specifications below are available as a convenience to you. You can also download our printable Envelope Size Chart.
However, if you have any questions locating a specific envelope not covered here, please contact us at 516-334-1603 or 1-877-mmprint.

Request an Envelope Printing Quote
---
Type: Envelope Dimensions:
Correspondence Style Envelopes Size:

#10
#9
#7 3/4 Monarch
#6 3/4 Size
#6 1/4 Size
4 1/8 x 9 1/2
3 7/8 x 8 7/8
3 7/8 x 7 1/2
3 5/8 x 6 1/2
6 x 3 1/2
Type: Envelope Dimensions: Card Size:
Baronial Style Envelopes Size: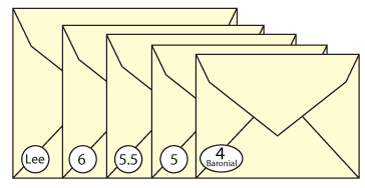 4 Baronial
5 Baronial
5.5 Baronial
6 Baronial
Lee Size
3 5/8 x 5 1/8
4 1/8 x 5 1/2
4 3/8 x 5 3/4
4 3/4 x 6 1/2
5 1/4 x 7 1/4
3 1/2 x 4 7/8
4 x 5 1/4
4 1/4 x 5 1/2
4 5/8 x 6 1/4
5 1/8 x 7
"A" Sized Envelopes are Sized as Follows: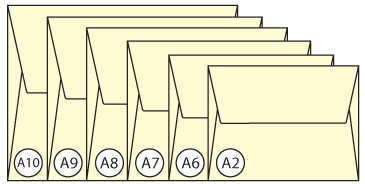 Type: Envelope Dimensions: Insert Size:
4 1/4 x 5 1/2
4 1/2 x 6 1/4
5 x 7
5 1/4 x 7 3/4
5 1/2 x 8 1/2
5 3/4 x 9 1/4
4 3/8 x 5 3/4
4 3/4 x 6 1/2
5 1/4 x 7 1/4
5 1/2 x 8 1/8
5 3/4 x 8 3/4
6 x 9 1/2