Variable Data Printing
Instead of printing out the same message to many, print out a custom message to each person you want to contact. Our printing company can help you maintain personal customer relations and make your advertising and marketing more direct by using variable data to personalize each printed document. We can make a personal salutation or even create different versions of documents, each with their own text and images directed towards a particular market. Get an estimate below
Variable Data Printing Services
Personalize: Become more intimate with each recipient by addressing them specifically or sending them advertising and marketing material that is personalized to their needs.
Discounted Shipping: Being an authorized UPS service outlet, we receive volume discounts on shipping charges which we pass along to our clients.
Key Variable Data Services:
Fast Turnaround: All of services are completed in house which ensures timely delivery of your materials. Fulfillment of your order is processed within days instead of weeks.
Fulfillment: Take advantage of our fulfillment services along with variable data to save time and money. Click Here>>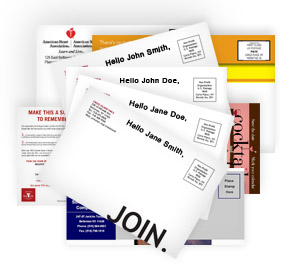 Updated: Saturday, May 18th, 2013
Digital Printing
Offset Printing
Church Printing
Education Non-Profit
EDDM Services
Die Cutting & Foil
Die Cut
Foil Stamp
Thermography
Info Center